About Us
Supporting Independence Ltd provides person centred support to people with learning difficulties, autism and/or mental health needs by assisting them to integrate in their community and engage with all community facilities.
The organisation is a registered provider of care with the Care Quality Commission. Further information on the Care Quality Commission can be found at www.cqc.org.uk
We have extensive experience of supporting people with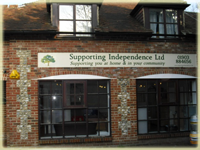 complex health needs, and who may have issues with challenging behaviour.We are able to help our clients to access the community at their own pace, and can safely support them during times of crisis.
We have strong links with local health services ensuring a multi agency approach, and actively encourage families to be involved in the lives of their loved ones with regular contact and through Person Centred Planning.